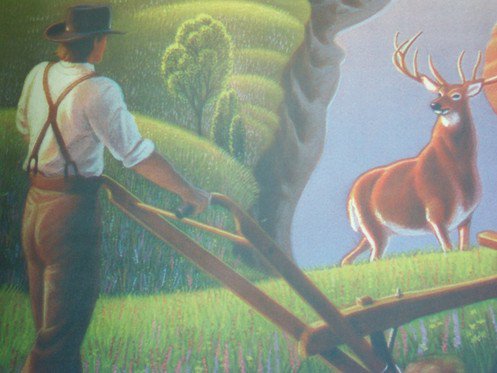 John Deere is one of the largest manufacturers of agricultural equipment in the world. Centered in Moline, Illinois, the company is known all over the world for its quality machines and products. However, one fateful decision made by John Deere in 1847 changed the company's fortunes. That decision, simply put, was to move the company from Grand Detour, Illinois, its original location along the Rock River, to Moline, Illinois, along the Mississippi River. That one choice changed Deere, Inc. from a local blacksmith into a nationally known company and, eventually, a world renowned corporation.
The late 1830s and early 1840s saw rapid change in Illinois. The railroad made its way into the northern part of the state, the Illinois and Michigan Canal began construction, and Chicago was established as a city. However, the biggest change was the continued movement of the United States west. At the end of the 1830s, Illinois was still on the western edge of the formal United States. Settlers kept moving farther and farther west. By the end of the 1840s, the Mississippi River was no longer the western edge of the US, it was the jumping off point to new lands like Kansas, Nebraska, and the rest of the plains who would become states in the 1850s. If John Deere was to continue to grow as a company, it had to take advantage of that westward movement. Staying in Grand Detour would ensure that Deere would remain a local company that serviced just local farmers. Moving west, well, that was the thing to do. And, it was also a huge risk.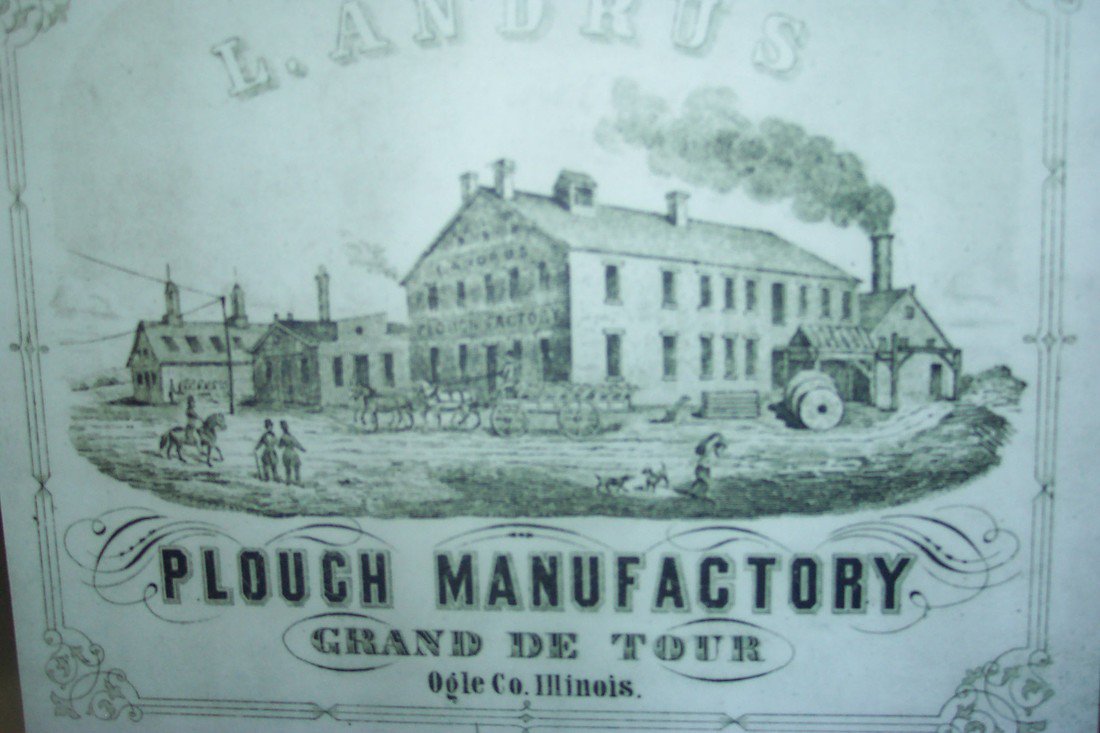 John Deere had a way with steel. In 1837, Deere invented a steel plow that could clean itself. This self scouring plow could rip through the thick black soil of northern Illinois prairies and not stick to the plow. The effect of that one invention changed farming in the 1830s and 1840s. Word of Deere's magical "plough" soon spread across the northern part of the state, into central Illinois, and later Wisconsin, Indiana, and Iowa.
What began with one plow in 1837 soon grew to over 100 plows a year by 1843.
Deere did not have to do much advertising initially as his best source of spreading information about the qualities of his product was the word of farmers who transformed their land with his invention.
Named after a big bend in the Rock River, Grand Detour, Illinois was a nice place for John Deere to start his business. Local farmers could easily access the town and his shop was only a short walk from the river. If one were to start an implement company, there were not many better places to begin during an era dominated by river travel.
However, the 1840s saw America and transportation changing. Trains soon could move Deere's "ploughs" faster than any river boat could. By the middle of the decade, Deere could send a plow anywhere there were tracks. However, when it came to the future of the US and farming, it was moving westward.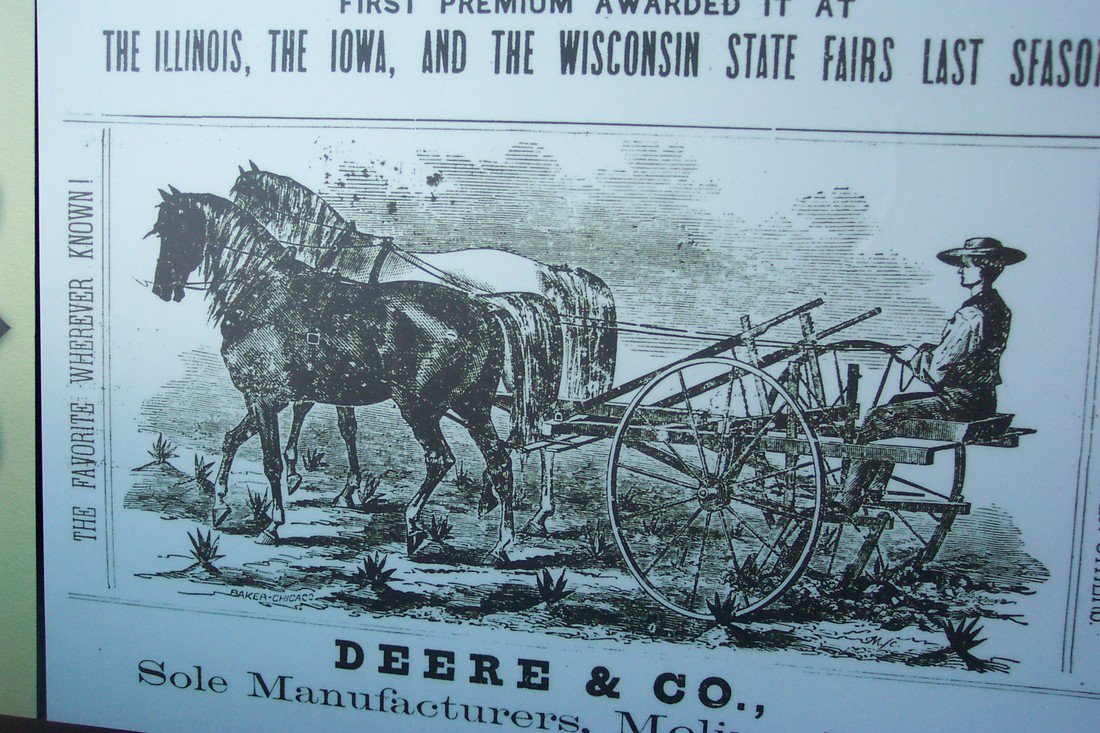 If John Deere was going to grow as a company, how long could Grand Detour continue to be his base?
Deere knew that he could make more money with his plows if he had access to more water, was closer to his resources, and he was more centrally located to ship his product to farmers in more states rather than Ogle, Lee, La Salle, Winnebago, and DeKalb counties.
After having moved from Vermont and rid himself of debt in less than 10 years, John Deere the man, was ready for the next challenge. But where would it be?
John Deere could have taken his plow works anywhere.
Chicago would have been a good choice with its access to railroads, the Great Lakes, and the eastern part of the country. However, Chicago lacked immediate access to the interior states in the 1840s, even with the I & M Canal in operation.
Another excellent choice, St. Louis was the gateway to the western part of the country. The city where Lewis and Clark began a journey some 40 years before had access to the Mississippi and Missouri Rivers. However, Missouri did not have the need for the plow as its soil was not as thick.
As for Moline, on the surface it did not immediately stand out. But once Deere started digging deeper it soon became evident that Moline was the perfect place for his burgeoning business.
1. It had a huge water supply in the Mississippi River. This water supply would give Deere the energy he needed to run his new plant and production facilities.
2. The Mississippi River also provided access to the entirety of country from north to south.
3. Demographics played a role in the decision as well. The plow itself was designed to cut through thick black soil. That type of the soil could only be found in the prairie states. Within 20 years, Deere, Inc. would make a variety of plows to cut through many types of soil, the initial plows were all about prairie soil found in Illinois, Iowa, Wisconsin, Nebraska, and Indiana. Moline is centrally located to all of those states.
4. Last, and maybe most importantly, it would make it easier for Deere to get his own supplies. There's just no easy way to get to Grand Detour in 1847. Locally, yes, one could get there fine. But if steel is being shipped in, it takes a while to get to Grand Detour thus driving up the price. Being on the Mississippi in Moline is much quicker, easier, and cheaper.
So, in essence, it was a major financial decisions with several factors.​
Hindsight is always 20/20. In 1847, not many understood Deere's decision at first. It took a while to sink in.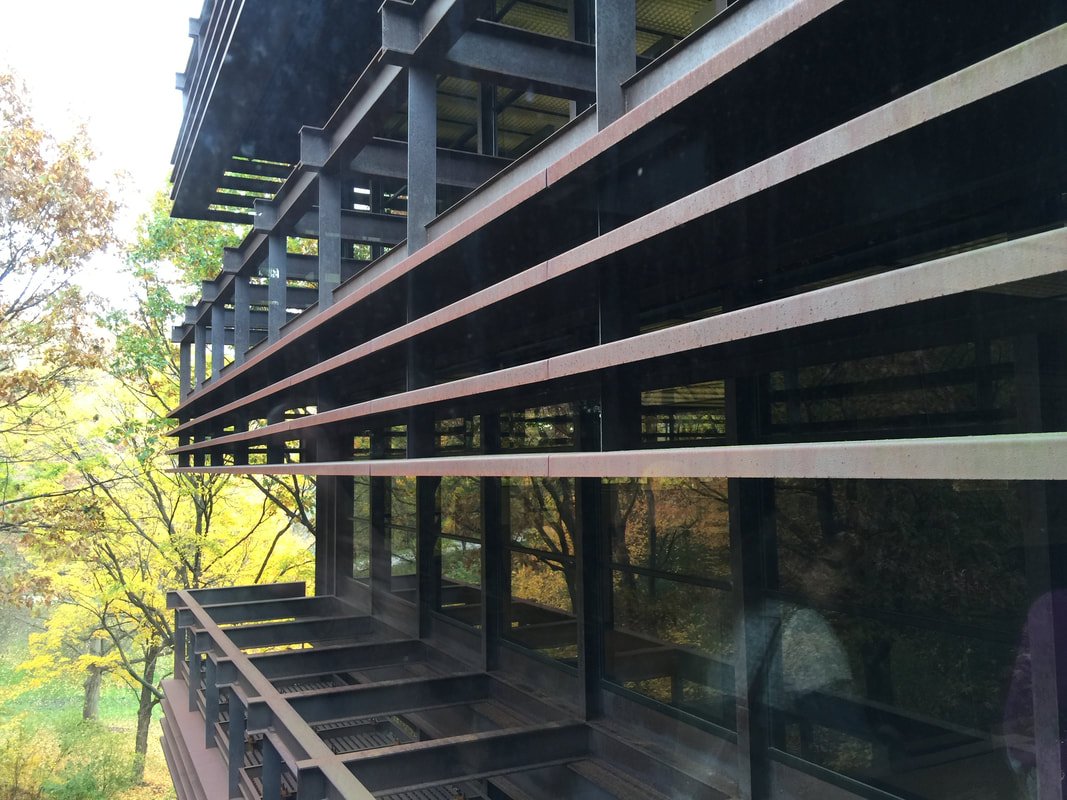 When John Deere began the move, Moline was actually smaller than Grand Detour. The town began in 1843 and had a whopping 13 buildings when John Deere made the move. However, it had what John Deere wanted most, the MIssissippi River.
In 1848, Deere and his 16 employees made over 2,000 plows. In 1852, Deere bought out all his investors to take sole ownership of the company.
As John Deere grew, so did Moline. The town and the company soon became synonymous and even now, it is hard to separate the two. One cannot think of Moline without John Deere and John Deere without Moline. Deere's son Charles would take over the company and expand it across the country and use advertising and branch dealerships to sell their products to the farmers all over the country.
Like John, Charles adapted to the changing times of the nation and business to keep the company moving forward.
Sources
Primary Documents
Historical Site Artifacts and Advertisements
John Deere Historical Site. Grand Detour, Illinois
John Deere Pavilion.
John Deere World Headquarters.
Secondary Sources
Journal Articles
Sutton, Robert M. "Illinois' Year of Decision, 1837." Journal of the Illinois State Historical Society (1908-1984), Vol. 58, No. 1 (Spring, 1965), pp. 34-53
Books:
Bogue, Allan G. (1994). From Prairie to Corn Belt: Farming on the Illinois and Iowa Prairies in the nineteenth century. Iowa State University Press.
Earnest E. (1937, reprint, 1989). They Broke the Prairie: Being some account of the settlement of the upper Mississippi valley by religious and education pioneers, told in terms of Galesburg. University of Illinois Press.
Dahlstrom, Neil and Jeremy Dahlstrom. (2005) The John Deere Story: A Biography Of Plowmakers John & Charles Deere. Northern Illinois University Press; illustrated edition.
Wayne G. Broehl Jr (1984). John Deere's Company: A History of Deere and Company and Its Times. Doubleday.
Newspapers
Nikolai, Geri. "Rock River Valley Insider: John Deere forged a new career in Illinois" Rockford Register Star. July 21, 2013. Accessed online at: https://www.rrstar.com/x853690615/Rock-River-Valley-Insider-John-Deere-forged-a-new-career-in-Illinois.
Magazines
"Digging John Deere." (Spring 2009). The Plowshare News for John Deere Collectors.. Issue 15, P. 1-2.
"175 Years of John Deere." (Spring 2012). The Plowshare News for John Deere Collectors. Issue 26, P. 1-7.